When we talk about Mother, we automatically think about protection as Mothers in the whole wide world are the only human beings who protects her child without any reason. Be it a Baby, or a Kid or an Adult, there is just no boundary as to where the mother protection goes out. A mother always for life, protects her child. Sons and Daughters are the most valuable asset for a mother in her life and she lives her life as a Lioness once she became a mother to protect her cubs. We also have over-protective mothers who gets a little possessive when it comes to her children and might violate the personal space but cannot even think about hurting her babies and it is only her way of showing her love and affection. Let's focus on our top 100 Mother Protection Quotes and cherish and applaud our mother's efforts.
Mother Daughter Protection Quotes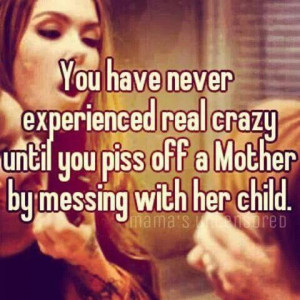 1. You have never experienced real crazy until you piss off a Mother by messing with her child.
2. Mother is like a blanket, protecting her child from the cold waves of the cruel world.
3. Mother and daughter never truly part, maybe in distance but never in heart.
Quotes That Motivates You: Proud Mother Of Two Sons Quotes
4. The woman who is my best friend, my teacher, my everything: Mom.- Sandra Vischer
5. I tell my daughter every morning, 'Now, what are the two most important parts of you?' And she says, 'My head and my heart.'" — Viola Davis
6. Life began with waking up and loving my mother's face. — George Eliot
7. A mother's love is like a fortress, And we seek protection there, When the waves of tribulation, Seem to drown us in despair. — Helen Steiner Rice
8. I'm a mother, and when you have children, there's a protection. You'll do a lot to protect them, to do what's best for them. — Kelli O'Hara
9. My daughter is my biggest achievement. She is a little star and my life has changed so much for the better since she came along. – Denise Van Outen
10. No matter how old you become, I'll always hold your hand tenderly, just like how I held it on the day that you were born. I love you, my daughter.
Quotes For Mother: Never Hurt Your Mother Quotes
Top Mother Daughter Protection Quotes
11. The older I get, the more I see the power of that young woman, my mother. – Sharon Olds
12. My mother wanted me to be her wings, to fly as she never quite had the courage to do. I love her for that. I love the fact that she wanted to give birth to her own wings. — Erica Jong
13. Tell the story of the mountain you climbed. Your words could become a page in someone else's survival guide. — Margan Harper Nichols
14. Mothers cowered over their small children, defenceless as their backs blossomed with red lines or swords were sunk into their flesh to reach the young ones they hid. — Osman Welela
15. A mother who is afraid to admit that she resents her children may interfere so much in their lives, under the pretect of being concerned about their welfare and safety, that her over-protection is really a form of punishment. — Calvin Springer Hall
16. The first lesson every child of Athena learned: Mom was the best at everything, and you should never, ever suggest otherwise. – Rick Riordan
17. As a child, when his mother would pray that he would have a hedge of protection or a hedge of angels around him, he would think, "Anyone can jump a hedge. How hard is that? Forget the hedge of angels; I'm praying for a dome of angels." — Jonathan Acuff
18. Mothers instinct is to obviously protect her child at all cost.
Interesting Quotes: Friendship And Coffee Quotes
19. There is nothing more powerful than the way a single mom will fight to protect her children at all terms.
20. By the time a woman realises her mother was right, she has a daughter who thinks she's wrong.
Mom Protection Quotes
21. Mothers of daughters are daughters of mothers and have remained so, in circles joined to circles, since time began. – Signe Hammer
22. It is not the job of the child to protect her mother. Infact, It is the mother's job to protect the child. By allowing your mother to protect you, you gave her a gift. — Kristin Cashore
Also Read: Proud Mother of Two Sons Quotes
23. My mother was the most beautiful woman I ever saw. All I am, I owe to my mother. For instance, I attribute all my success in life to the moral, intellectual, and physical education I received from her. – George Washington
24. I'm a mother lion when it comes to protecting my children.
25. I'm a lioness. I have four cubs. I'm a mom. As a result, I want to take care of my kids and protect them.
Other Posts You May Enjoy: Toxic Mother Quote
26. The best place to cry is on a mother's arms." – Jodi Picoult
27. If now the all-mother sends forth her children without protection to a thousand threatening dangers, this can only be because she knows that if they fall they fall back into her womb, where they are safe; therefore their fall is a mere jest.  — Arthur Schopenhauer
28. Man begins life helpless. The babe is in paroxysms of fear the moment its nurse leaves it alone, and it comes so slowly to any power of self-protection that mothers say the salvation of the life and health of a young child is a perpetual miracle. — Ralph Waldo Emerson
29. As mothers and daughters, we are connected with one another. My mother is the bones of my spine, keeping me straight and true. She is my blood, making sure it runs rich and strong. — Kristin Hannah
30. Life is tough my darling, but so are you. – Stephanie Bennet Henry
Amazing Mother Protection Quotes
Cherish your Mother and her tenderness through our top Mother Protection Quotes listed below,
31. A mother who radiates self-love and self-acceptance actually vaccinates her daughter against low self-esteem. – Naomi Wolf
32. Maybe, destiny and fate could have given you better parents than us. But nothing could have given us a better son than you. I love you, son, you're the best.
33.  Crime is a social problem, and education is the only real deterrent. Look at all of us in prison; we were all truants and dropouts, a failure of the educational system. Look at your truancy problem, and you're looking at your future prisoners. Put the money there. – Wilbert Rideau
Also Explore: Toxic Narcissistic Mother Quotes
34. The best gifts in the world are not always wrapped in boxes. They also come in the form of loving sons like you.
35. Your mother died to save you. If there is one thing Voldemort cannot understand, it is love. Love as powerful as your mother's for you leaves it's own mark. To have been loved so deeply, even though the person who loved us is gone, will give us some protection forever. — J.K. Rowling
Caring Mom Protection Quotes
36. Like a mother who protects her child, her only child, with her own life, most importantly one should cultivate a heart of unlimited love and compassion towards all living beings.
37. I am a mama bear. As a matter of fact, I will love and protect my children, no matter how old they are. God help the person that ever tries to hurt them in any way.
38. Even as a small child, I understood that women had secrets, and that some of these were only to be told to daughters. In this way we were bound together for eternity. — Alice Hoffman
39. A daughter is one of the most beautiful gifts this world has to give. – Laurel Atherton
40. A man loves his sweetheart the most, his wife the best, but his mother the longest. – Irish proverb
Mother Protecting Son Quotes
Here we have jot down famous Mother Protection Quotes,
41. Life doesn't come with a manual, though it comes with a mother.
Discover More: Birthday messages for mother
42. Sons worship their mothers, seeing them as flawless, almighty beings who spread love and who are able to do anything. That is why the most important lesson that a mother can teach her son is to respect, love, and understand women.
43. When you look into your mother's eyes, you know that is the purest love you can find on this earth. — Mitch Albom
44. Just as a mother would protect her only child with her life, even so let one cultivate a boundless love towards all beings.
45.  Gentle birth, protecting mother and baby, is a solution that I believe will result in positive change for our society. —Robin Lim
Loving Mother Looking After Son Quotes
46. A daughter is a straightaway miracle that never ceases to be miraculous, full of beauty and forever beautiful, obviously loving and truly amazing. – Deanna Beisser
47. A mother is always a mother. She never stops. She will care for, support and protect her children, even when they have frown up and have children of their own. Being a mother is something you can't just turn off.
48. Mother is a verb, comparatively It's something you do. /Not just who you are.  – Cheryl Lacey Donovan
49. Sons believe that their mothers are flawless people and to discover; otherwise, it is crushing. Every son knows that his mother wants the best for him; that is why he trusts her completely and irrevocably.
Recommended Reading: Birthday wishes for mom
50. A Romney-Ryan administration will protect and strengthen Medicare, for my Mom's generation, for my generation, and eventually for my kids and yours. — Paul Ryan
Dearest Mother Protection Son Quotes
51. It is so nice to come home and have solitude with me and my daughter. — Mindy Kaling
52. I can predict your future; it's way too easy. You'll be a handsome man, very fine and classy. You will soar new heights, not just because you are my son but because from your heart, you are a lovely person. Your life will be perfect, just as it is now… consequently you have no idea that I love you and how.
53. If at first you don't succeed, try doing it the way mom told you to in the beginning.
54. My mother told me two things constantly. One was to be a lady, and the other was to be independent.  – Ruth Bader Ginsburg
55. Motherhood: All love begins and ends there. — Robert Browning
56. There is no greater warrior than a mother protecting her child regardless what the children do.
57. Find it within you to love exactly who you are and to know you're capable, you're loved and you're beautiful. The world is a better place, because of you. You are unique because there is only ONE of you. – Shantel VanSanten
58. Just as a mother would protect her only child with her life, even so let one cultivate a boundless love towards all beings.
59. The love between a mother and a daughter is forever. — Patricia Wayant
60. I felt I couldn't be a good mom anymore, but I didn't want my children to grow up without a mom. I felt I had to end our lives to protect us from any grief or harm. — Susan Smith
Mother Will Protect Quotes
61. Hold dear to your parents for it is a scary and confusing world without them. — Emily Dickinson
62. In the difficult moments of life, Christians can turn to the Mother of God and find protection and care. – Pope Francis
63. As a mom, I always feel I have to protect them. I talk about them because they are the most important things in my life but they are private people. I won't use them for my own press. — Jami Gertz
Quotes That Worth To Share: Mom Son and Daughter quotes
64. A mother's arms are made of tenderness and children sleep soundly in them. — Victor Hugo
65. No matter how old she may be, sometimes a girl just needs her mom. – Cardinal Mermillod

66. Our soldiers have nobly fought to protect freedom since our country's birth, and have fought to protect those that could not protect themselves, even in foreign lands when called upon. — John Linder
67. Mothers and their children are in a category all their own. There's no bond so strong in the entire world. No love so instantaneous and forgiving. — Gail Tsukiyama
68. Come morning, his memory would be of a night spent watching over them all. And each of them – dog and boy, mother and old man – would feel the same. – David Wroblewski
69. On the darkest days, when I feel inadequate, unloved and unworthy, I remember whose daughter I am and I straighten my crown.
70. I love my mother as the trees love water and sunshine. She helps me prosper and reach great heights. – Terri Guillemets
Cheering Mother Will Protect Quotes
71. Mothers and daughters are closest particularly, once daughters become mothers.
72. Mama was my greatest teacher, a teacher of compassion, love and fearlessness. If love is sweet as a flower, then my mother is that sweet flower of love. — Stevie Wonder
73. I will hold you tight, support you, guide you, teach you, hug you, protect you and love you with all my soul. I am your parent, since the day you were born and until I draw my last breath, all that I am is YOURS.
74. I am sure that if the mothers of various nations could meet, there would be no more wars. — E.M.Forster
75. A mother and a daughter always share a special bond, which is engraved on their hearts.
76. Mother – that was the bank where we deposited all our hurts and worries.
77. There is no role in life that is more essential than than of motherhood. — Elder M. Russell Ballard
Quotes For Tough Time: Quotes for dead mother
78. We protect aspirin bottles in this country better than we protect guns from accidents by children. — Gloria Estefan
79. There's no way to be a perfect mother, and a million ways to be a good one. — Jill Churchill
80. My mom is literally a part of me. You can't say that about many people except relatives, and organ donors. – Carrie Latet
Famous Mother Protection Quotes
81. Biology is the least of what makes someone a mother. – Oprah Winfrey
82. The biggest surprise about motherhood is that humans can actually survive on one hour of sleep a night.
83. My mother was my role model before I even knew what the word was. —  Lisa Leslie
84. As a single mom you have to play the roles of both a mother as well as a father. This is the most difficult aspect of being a single mom apart from the financial challenges. You have to pamper your precious children as a mother and also scold them like a father when they go wrong.
85. Mothers and daughters together are a powerful force to be reckoned with. – Melia Keeton-Digby
86. My mother, she is beautiful, softened at the edges and tempered with a spine of steel, I want to grow old and be like her. — Jodi Picoult
87. A boy is the truth with dirt on his face, beauty with a cut on his fingers, wisdom with bubble gum in his hair, and the hope of the future with a frog in his pocket.
You Must Read: Mother's day message
88. Mother was comfort. Mother was home. — Ruta Sepetys
89.  I am not a perfect mother and I will never be. You are not a perfect daughter and you will never be. But put us together and we will be the best mother and daughter we would ever be. – Zoraida Pesante
90. You may have tangible wealth untold; caskets of jewels and coffers of gold. Richer than you can never be. I had a mother who read to me. – Strickland Gillilan
Unconditional Love Mother Will Protect Quotes
91. She's my best friend, particularly she's everything to me. It's always just been me and her against the world. — Jacquelyn Middleton
92. I told my mom she was invading my personal space and she said I came out of her personal space.
93. When someone asks you where you came from, the answer is your mother. It's so much more than love. Even when there's no love, it's so much more than anything else in your life. –Anna Quindlen
94. The living mother-daughter relationship, you learn over and over again, is a constant choice between adaptation and acceptance. — Kelly Corrigan
95. Women are told from their infancy, and taught by the example of their mothers, that a little knowledge of human weakness, justly termed cunning, softness of temper, outward obedience and a scrupulous attention to a puerile kind of propriety, will obtain for them the protection of man. — Mary Wollstonecraft Shelley
Selfless Mother Protection Quotes
96. A good son will never allow sorrow to befall her mother…and act as if he is an only child that cares…protects when no one dares…serves with his life in return…and most of all finds a wife that will love his mother too. – Helen Rebibis Ramos
97.  I am charging you with the protection of my mother and friends, obviously not to forget keeping my younger self off the Internet. He is as dangerous as Opal. — Eoin Colfer
98. I was raised in Boston by three older brothers and a very strong and empowering single mom. — Eliza Dushku
99. My daughter, while we have had adversity, similarly we more sweet memories that allow us to overcome the challenges we faced. – Ann Butler
100. I will use this sharp pain to penetrate my daughter's tough skin and cut her tiger spirit loose. She will fight me, because this is the nature of two tigers. But I will win and give her my spirit, because this is a way a mother loves her daughter. — Amy Tan